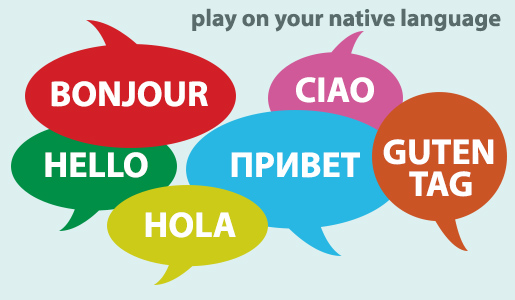 Game translation
Итак, я закончил доработку игры "Last Man", и теперь все тексты хранятся в отдельном файле. Их будет легче редактировать, чтоб исправлять ошибки, а главное можно добавить любое количество других языков.
Конечно сделать перевод игры в одиночку просто невозможно. Хотя я и стараюсь делать в игре поменьше текста, чтоб не утомлять игроков, в данный момент там уже 110 тысяч символов. Это около 60 страниц текста. И это только на одном из языков. Потому как вы видели английская версия игры в основном сделана через гугл переводчик.
Некоторые люди уже предлагали свою помощь с переводом, но тогда еще не было возможности все это удобно организовать. Теперь же мы сможем воспользоваться сервисом, где каждый сможет внести помощь по своим возможностям. Даже если вы сможете перевести всего несколько строк.
Все тексты игры выложены на Google Drive в формате таблиц.
1. Выберите с каким переводом вы хотите помочь.
Для работы над переводом вам нужен Google аккаунт. Напишите мне на е-мейл vortex.cannon.ent@gmail.com, ваш логин (ваш е-мейл в Google) и язык, с которым хотите помочь. Если нужного языка в списке нет, напишите об этом и я создам новый файл.
2. Начинать перевод можно с любой строки. Если что-то не понятно, это можно пропустить и вернуться позже. Если вы видите ошибку в чужом переводе, может редактировать поверх. Слева будет оригинальный текст, справа ваш перевод.
Некоторые правила:
1. Не используйте перенос строки (нажатием Enter) в вашем переводе. Используйте символ # как в оригинальном тексте. Игра сама сделает перенос строки.
2. Не используйте символ ", из-за особенностей движка игры он будет утерян. Используйте ' (одинарный).
3. Если какой-то текст вам не ясен, можно попробовать заглянуть в оригинальный русский (тот же номер страницы и строки, перевести его онлайн сервисом). Или просто его пропустить.
В игру играют тысячи человек, и думаю вместе нам будет легче все отредактировать. Во всяком случае раньше я все это делал сам 🙂
[su_note note_color="#efefe9″ radius="10″]Недетская игра 2
Если вы хотите помочь с ее переводом, свяжитесь со мной по e-mail vortex.cannon.ent@gmail.com и укажите язык, на который хотите переводить.
[/su_note]

---
---
---
Well, I finished the improvement of the game "Last Man", and now all texts are stored in a separate file. So now and in future, it will be easier to edit, to correct mistakes, and most importantly, you can add any number of other languages.
Sure, to make a translation of the game by myself – it's simply impossible. Although I try to make in the game fewer text – as not to tire the players. Now there are already 110 thousand symbols. It is about 60 pages of text. And this is only one of the languages. You have seen that the English version of the game is mainly done through the Google translator.
Some people have offered their help with the translation, but that time I haven't opportunity to conveniently organize all this process. Now we will be able to use the service, where everyone can help with the translation of the game as a matter of their opportunities and experience. Even if you can translate a few lines only.
All texts of the game are laid out on Google Drive in table format.
1. Select translation with which you want to help.
To work on the translation you need a Google Account. Contact me an e-mail vortex.cannon.ent@gmail.com, with your username (your e-mail in Google) and the language with which you want help. If the language is not listed, write about it and I'll create a new file.
2. You can starting the translation from any line. If something is not clear, you can skip it and come back later. If you see a mistake in someone else's translation – you can edit over the someone else's translation. Original text on the left, and your translation and from the right.
Some rules:
1. Do not use line breaks (by pressing Enter) in your translation. Use the # character as in the original text. The game will make a line break itself.
2. Do not use the " character, because of restriction of game engine, it will be lost. Use ' (single).
3. If you do not understand some texts, you can try to look at the original Russian (the same page and line number, translate it with online service). Or just skip it.
Thousands of people play "Last Man", and I think together it will be easier to edit and translate it. Anyway, before I did it myself 🙂
[su_note note_color="#efefe9″ radius="10″]Dare to Play 2
If you want help with a translation, please send e-mail to me: vortex.cannon.ent@gmail.com, with the language into which you want to translate.
[/su_note]